Cannabis seltzer to be sold during Willie Nelson concerts, other shows at Bluestem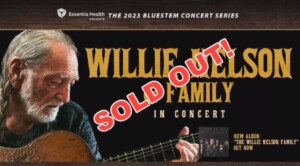 FARGO (KVRR) – A new item will be on the menu during the Willie Nelson concerts later this month at the Bluestem Amphitheater in Moorhead.
Jade Presents announced on social media Thursday that Cannabis Seltzer will be sold during Nelson's concert and all other events during this year's Summer Concert Series.
The product is available through a new partnership with North Canna Co.
Nelson is well-known as an outspoken supporter of cannabis products. He says at one time, marijuana saved his life.
Last year, the Minnesota legislature legalized hemp-derived cannabis for adults. A bill to legalize recreational marijuana is still being negotiated by lawmakers. Gov. Walz says he intends to sign it.
Nelson is set to perform at two sold-out shows on May 22 and May 23.