Staying Safe In Construction Zones This Holiday Weekend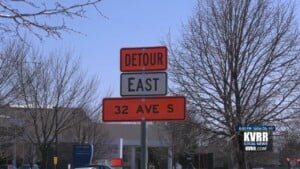 FARGO, N.D. (KVRR) – With the summer season comes everyone's least favorite season, construction season.
With the 2023 road construction upon us there are a few things the NDDOT would like everyone to remember.
"We recognize this weekend, it's Memorial Day weekend coming up so it's that busy summer travel season kicking off and we want to take time to talk about that highway safety and traveling public and work zone interaction." says  NDDOT's Deputy Director of Engineering, Matt Linneman.
Some tips for motorists to keep in mind during road construction season are one, to make sure you pay attention to signs and flaggers. Two slow down and obey the posted speed limits in construction zones. Three stay alert and minimize distractions while driving at all times and last and be patient and expect delays.
"We understand that the construction zones are an inconvenience but just remember that today's inconveniences is part of tomorrow's improved future ride. So, let's have a safe construction season and a good summer where everybody is happy and healthy." says Russ Hanson of Associated General Contractors of North Dakota.
Today I attended The North Dakota Department of Transportation (NDDOT) press conference at the Fargo District Office where we discussed these safety tips.
They also stressed the importance of planning ahead when traveling this holiday weekend. Construction zones can add minutes to your weekend commute.
"These minor inconveniences for the construction season are for improvements that will last for 20, 30, 40, 50 years at times. So again, we only have a few short months to get this work done. Give these workers a break and slow down and pay attention while you're in these work zones." says Bryan Niewind of the North Dakota Highway Patrol.
If you would like live, up-to-date information on road construction near you, you can download the RoadsND app from your app store.