UPDATE: AMBER Alert cancelled after young girl is found
Police say three-year-old Beatris Decoteau was abducted from Fargo by her mother, Breanna Ziegler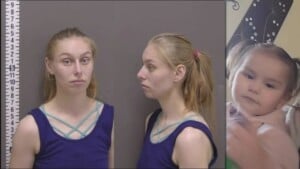 UPDATE: AMBER ALERT CANCELLATION
The AMBER Alert issued by NDHP and NDBCI at the request of Fargo Police Department on 6/28/2023 has been cancelled. Beatris Decoteau has been safely located by law enforcement officials.
FARGO, N.D. (KVRR) – An AMBER Alert is active for a missing child authorities say was abducted.
The North Dakota Highway Patrol and the North Dakota Bureau of Criminal Investigation issued the alert late Wednesday night at the request of the Fargo Police Department.
Police say three-year-old Beatris Decoteau was abducted from Fargo by her mother, Breanna Ziegler and another person who is no longer being sought.
Ziegler was last seen at the Cass County Courthouse.
She was ordered by the court to turn her daughter over because the child may be in danger of bodily harm.
Police have also found a gray Chevrolet Sonic believed to have been involved.
If you know where they are contact the Fargo Police Department at 701-451-7660 or 911.