Marijuana Seized at Mahnomen Tobacco Shop and Home of its Owner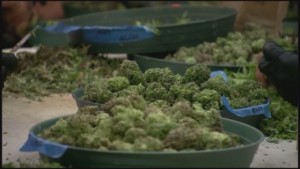 MAHNOMEN, Minn. (KVRR) — A Mahnomen man is accused of illegally selling marijuana out of the Asema Tobacco and Pipe Shop in Mahnomen.
Sheriff Josh Guenther says a warrant was executed at the smokeshop owned by 53-year-old Todd Thompson and at his home and large amounts of marijuana were seized.
Thompson was posting on Facebook that he was open for business and selling recreational marijuana.
The sheriff says Thompson is a tribal member but is not affiliated with the White Earth Reservation governmental entity.
The tribal government is permitted to sell marijuana while private citizens are not
Paul Bunyan Drug Task Force and White Earth Police Department assisted Mahnomen County Sheriff's Office in executing the search warrant.