Gov. Doug Burgum To Visit Troops Helping Secure Southern Border in Texas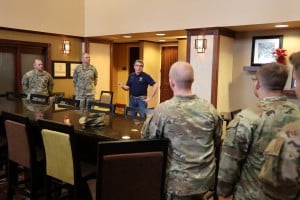 BISMARCK, N.D. (KVRR) — Gov. Doug Burgum is taking a break from the presidential campaign trail on Monday to visit North Dakota National Guard soldiers helping secure the U.S.-Mexico border.
Burgum is commander-in-chief of the state's National Guard.
He will visit around 100 members of the Wahpeton-based 188th Engineer Company in Texas.
The group began a 30-day mission this week in support of Operation Lone Star.
He also will visit with members from the 1st Battalion, 112th Aviation Regiment who are deployed on federal status in support of U.S. Customs and Border Protection.
Burgum says stopping illegal activity at the southern border is critical to the security of our state and nation.