Three Families And a Fargo Pediatrician Sue Over North Dakota's Youth Trans Health Law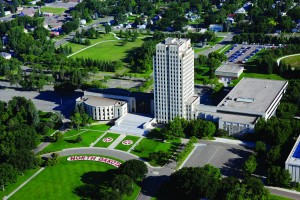 BISMARCK, N.D. (KVRR/AP) — Three families and pediatrician Dr. Luis Casas of Fargo are suing North Dakota over the state's new transgender Health Care Ban law.
It was passed by more than two-thirds majority of both houses earlier this year and immediately made it a crime to give gender-affirming care to people younger than 18.
The plaintiffs say the ban violates the North Dakota Constitution by singling out transgender kids for unequal treatment under the law.
The families, two of whom wish to remain anonymous due to privacy and safety concerns, have children who were already undergoing medical treatment for gender dysphoria when the health care ban took effect.
They are represented by Gender Justice, the Lawyering Project, and Ciresi Conlin LLP.
They are asking a North Dakota circuit court judge to immediately block enforcement of the law.
"We are standing up for all North Dakota kids and families whose lives have been upended by these politically motivated attacks on our rights, our personal freedom, and our ability to decide for ourselves what's best for our children," said Devon Dolney, mother of one of the child plaintiffs in the case.
"These treatments are essential, and these kids have urgent medical needs that aren't being met because of this law," said Dr. Luis Casas, a plaintiff and pediatric endocrinologist who has treated all three of the child plaintiffs.
"It may be difficult for some of us to understand what it's like to have a transgender child, but we should all be able to agree that health care that significantly decreases the risk of depression and suicide in children should not be made illegal," said Casas.
North Dakota Attorney General Drew Wrigley told The Associated Press he hadn't seen the lawsuit's filing, but his office "will evaluate it and take the appropriate course."
Bill sponsor and Republican state Rep. Bill Tveit told the AP that he brought the legislation to protect children.
"I've talked to a number of people who are of age now and would transform back if they could, and they're just really upset with their parents and the adults in their life that led them to do this, to have these surgeries," Tveit said. He declined to identify the two people he said he talked to, but said one is a college student in Minnesota that he became acquainted with while working on the bill.