Churches United Celebrates Christmas
Santa is not the only one giving gifts this Christmas.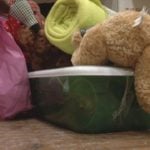 Santa is not the only one giving gifts this Christmas.
With the community's help, joy is spread throughout the town.
Churches United for the Homeless in Moorhead is the largest homeless shelter in northwestern Minnesota.
"A lot of folks who are here, are away from their family, either because of distance or finances or sometimes broken relationships, and the holidays can be a difficult time for folks when they're not with their family," said Pastor Sue Koesterman, Executive Director of Churches United.
The shelter is home to men, women and families.
Thanks to many donations from the community, they have something to look forward to on Christmas day.
"This morning on Christmas day, we're going to have a visitor from the north, who will come and bring presents for all of our residents and families as well as for some families who have already moved out," said Koesterman.
Churches United continues their day with a Christmas service followed by a brunch hosted by volunteers.
"There's a very strong sense of community here at churches united for the homeless, a lot of resilience and hope," Koesterman said.
The holiday season is wrapping up, but there is a need for donations all year round.
You can drop off whatever you can contribute at the welcome desk Monday through Friday during businesses hours.
"Towels for folks who are moving out, warm winter coats, boots, hats, long underwear, larger sizes," said Koesterman, referring to what the shelter is in need of.
There are also opportunities to give your time.
"There's something really sacred about contributing and volunteering and showing compassion and neighborly love at this time of the year," Koesterman.
It's a present that you can't buy at the store.
"Sometimes that turns out to be more of a gift, to give to someone else at the Holiday season than anything one might receive," said Koesterman.
Churches United was formed in 1987.
For more information on how you can help, you can visit their website.