Spearfish Authorities Continue Deadly House Fire Investigation; How You Can Help the Families
Authorities haven't identified the families or children but the account says the fire broke out at the Wilson-Roden and Tate house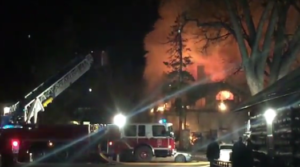 SPEARFISH, S.D. — A GoFundMe account set up for families affected by a Spearfish house fire that killed five children has already raised tens-of-thousands of dollars.
The victims are 6-year-old Phibie Moyer, 7-year-old Clinton Johnson, 8-year-old Rhylin Gee, 9-year-old Justice Roden and her 11-year-old sister, Tanlynn Roden.
The fire broke out at the Wilson-Roden and Tate house.
There is still no word on the fire's cause.
Authorities say there was no immediate indication of anything criminal.
The fire was reported shortly before 4:30 a.m. Saturday.
Authorities say the children who died were between 6 and 11 years old.
Some adults who tried to rescue them were taken to a Spearfish hospital for treatment of smoke inhalation.
If you would like to help, click here to go to the GoFundMe page.