Fargodome Adds Metal Detectors
The equipment has been installed but not yet used.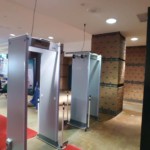 FARGO (KFGO) – The Fargodome is upgrading its security with walk-through metal detectors.
The equipment has been installed but not yet used.
General Manager Rob Sobolik tells KFGO News says staff is undergoing training, and they are working on finalization of guidelines and protocol on what is and isn't allowed to be brought in to the venue.
While an official date has not been set for full use, Sobolik says the detectors may get a test run during Monster Jam this coming weekend and the Avenged Sevenfold concert the following weekend.
Sobolik says,this is "an item, unfortunately, in today's world, that appears necessary," a reference to growing terrorism concerns.
The total cost of the new metal detectors is around $150,000.
That includes wand detectors.
The money comes from the Fargodome's surplus fund that's used for capital improvements.
Sobolik says that's a lot money but he says when it comes to guest safety, "you can't put a price on that."
Did we miss anything in this story, what else do you want to know about this topic?
Let me know by emailing me at jradske@kvrr.com, Joe Radske -News Director