Prairie Roots Food Co-Op Combines Refreshment, Fitness with Smoothie Bike
People could make their own smoothies while they pedaled on the bike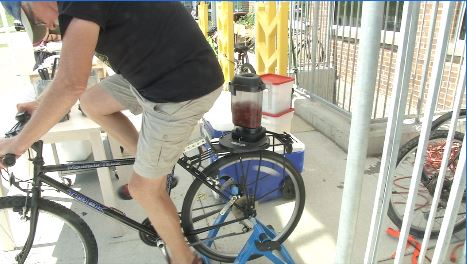 FARGO, N.D. — People had the chance to stay refreshed while getting a good workout by taking a ride on a smoothie–making bicycle.
As part of the Prairie Roots Food Co–Op's first birthday celebration, people could pedal on the bike, and the gears would blend together various ingredients to create a fresh smoothie.
Some people even rode their bikes from West Fargo just to try out the smoothie bike, and they say they were glad to make the journey.
"It was an absolute blast. It was delicious, and it's fun to see the community come out and support this business. Whoever invented it was super clever and to be able to make our smoothie with some exercise was a great day," said Lindsey Cernik of West Fargo, who was one of the bikers who made the hour trek to the Food Co-Op downtown.
Prairie Roots Food Co–Op concludes its first birthday bash with a salsa sampling tomorrow at noon.