Former Teacher Formally Charged With Sex-Related Crimes Involving Minor Boys
Shannon Moser was ordered to have no contact with any juvenlies, except her own children and cannot use any social media.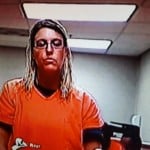 FARGO, ND — A Moorhead woman has been formally charged with sexual assault of a minor, a felony.
Shannon Moser, a former West Fargo Middle School Teacher, also faces two counts of use of a minor in a sexual performance, both also felonies.
The 37 year old was in Cass County Court Tuesday morning for her arraignment.
Bond was set at $30,000 with the following conditions.
She can have no contact with any juveniles except her own children.
Moser also cannot use any social media.
Her next court appearance is scheduled for August 23, 2018.
WEST FARGO, ND — A West Fargo teacher has resigned after being charged with sex-related crimes involving two minors.
37–year–old Shannon Moser had been a teacher at Liberty Middle School since 2016.
West Fargo Police got an anonymous tip in June about possible sexual contact between an adult female and a juvenile male.
Their investigation has resulted in charges being filed against Moser for Luring a Minor for sex–related crimes involving two juvenile males between the ages of 14 and 16.
The boys are West Fargo students.
Moser resigned from the school district on July 12.
In a statement, West Fargo Public Schools said it will continue cooperating with the police in their investigation, and will not comment further, in order to not jeopardize their progress.