Former West Fargo Teacher Pleads Guilty to Sexual Misconduct Charges
37-year-old Shannon Moser of Moorhead plead guilty to six felonies.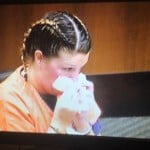 FARGO, ND — A former West Fargo middle school teacher plead guilty to six charges of sexual misconduct.
37-year-old Shannon Moser of Moorhead faced eight felonies that include sexual imposition, sexual assault, luring minors by computer and using a minor in a sexual performance.
The number of possible victims was recently expanded from two to six.
Moser resigned from Liberty Middle School following her arrest.
One 16-year-old boy told police that she shared nude Snapchat images with him and they had sex in a van.
Moser, who remains in the Cass County Jail, had her bail raised to $100,000.
Her lawyer said in court he doesn't expect her to post bail.