Train Derails Near Ulen
BNSF is aware of the incident.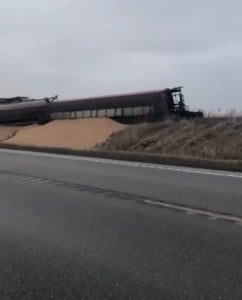 ULEN, Minn.–A train derailed South of Ulen along Highway 32 early Monday morning.
There were 114-grain cars on the train. The wheels on a few of the cars came off the rails causing the grain they were carrying to spill.
BNSF crews reported to the scene to get the cars back on the track and clean-up the grain that spilled.
No on was injured and the cause is under investigation.