Update: Moorhead family members died from carbon monoxide poisoning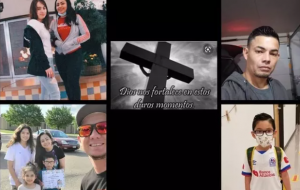 MOORHEAD, Minn. (KVRR) – Seven members of a Moorhead family who died in a home over the weekend were killed by carbon monoxide poisoning.
Police say the preliminary causes of death are based on laboratory blood tests, although the investigation remains open.
The victims were identified as 37-year-old Belin Hernandez, 34-year-old Marleny Pinto, 16-year-old Breylin Hernandez, 7-year-old Mike Hernandez, 5-year-old Marbely Hernandez, 32-year-old Eldor Hernandez Castillo and 19-year-old Mariela Guzman Pinto.
The statement from Moorhead Police is below:
The Ramsey County Medical Examiner's Office has released preliminary blood examination results from the victims found on Saturday, December 18, at 4403 13 Street South in Moorhead. Previously, the Medical Examiner ruled out trauma as a cause of death. Today, the Moorhead Police Department received the blood results that listed a lethal level of carbon monoxide toxicity in the victims.
The investigation has found two known sources that produce carbon monoxide. The first is the furnace at the residence, located in a separate room inside the garage area and has an exterior air intake for fresh air. Detectives have worked with the State Fire Marshal and an HVAC professional and could not duplicate a furnace malfunction whereby carbon monoxide was entering the home. The second source of carbon monoxide is a Kia van, located in the garage, that had some mechanical issues related to the battery. The vehicle was found with a dead battery and a half-full gas tank. There is no indication it was being worked on, such as tools, jumper cables, or a battery jump starter. Detectives had the car checked by a mechanic, the alternator was functioning correctly, but the battery needed to be charged. Further testing from victim blood samples is being conducted at a qualified separate lab to determine if there is a presence of hydrogen cyanide which originates from the exhaust of a motor vehicle. This lab test may take up to eight weeks for results. Once those lab results are finalized, we will move closer to defining the cause of the poisoning. The last building inspection of the home was in September of 2020, and no issues were found with the installed detectors. Detectives found a carbon monoxide detector in a laundry room cabinet detached from the wall and a battery removed. The sensors currently mounted in the home were smoke-only detection devices. The investigation is still active; however, this information should provide more answers for the cause of this tragic situation.