Fargo city offices close as winter storm makes travel difficult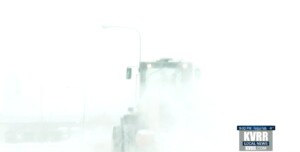 FARGO (KVRR) – The city of Fargo has declared a snow emergency in the wake of a winter storm that dumped several inches of snow on the region.
All non-emergency offices including Fargo City Hall, the Fargodome, public libraries and Fargo Cass Public Health are closed Wednesday.
MATBUS will be starting all services late at 12 p.m. The Ground Transportation Center (GTC) at 502 NP Avenue in Fargo will open at 12 p.m. Due to NDSU classes being cancelled, Routes 31, 32, 33, 34, 36 and the NDSU TapRide service will not be in service.
Residential trash and recycling collection will occur as planned, but collections may be delayed. The Fargo Sanitary Landfill and Household Hazardous Waste (HHW) Facility will both be open.
Interstate 29 was closed between Grand Forks and the South Dakota line and I-94 was closed from Fargo to Bismarck.
In Moorhead, Clay County Sheriff Mark Empting said visibility was reduced to about 100-200 yards or less at times in rural areas. "Travel is difficult, please stay home if you are able too," Empting said.