Vehicle Fire Started by Smoking Materials Burns Side of Grand Forks Hotel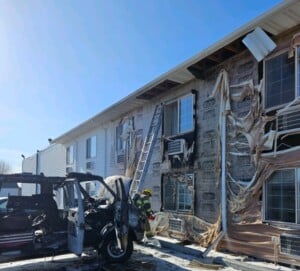 GRAND FORKS, N.D. (KVRR) — Grand Forks Fire was called to 1211 47th Street North for a vehicle on fire near Knights Inn around 5:30 Tuesday evening.
They arrived to find the fire had spread to the hotel.
Damage to the building was limited to the vinyl siding and the hotel was able to resume operations.
The vehicle and all its contents were a total loss.
The driver had minor injuries but was not taken to Altru by paramedics.
The cause of the fire was accidental due to smoking materials.