Second Man Sentenced In Stabbing Death Last Fall in Fargo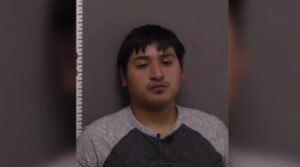 FARGO, N.D. (KVRR/KFGO) — A second man charged in connection with the murder of Phillip Bergquist in downtown Fargo last October has pleaded guilty to witness tampering.
David Reyneros was sentenced to the 185 days he'd already spent in jail and was placed on probation for 18 months.
Earlier this week, 39-year-old George Ortiz was given a 55-year prison term after he pleaded guilty to the murder of the 33-year-old Bergquist.
Ortiz stabbed him 20 times and slashed his throat.
Another man charged in the case, Joseph Poitra, is expected to plead guilty to an accomplice to murder charge.
Bergquist was the grandson of long-time Fargo TV weatherman Dewey Bergquist.
He had just moved to Fargo from Wisconsin.