UPDATE: I-29 Closed from G.F. to Watertown, I-94 Closed Fargo to Bismarck
19th Avenue North in Fargo Closed at 5:30 pm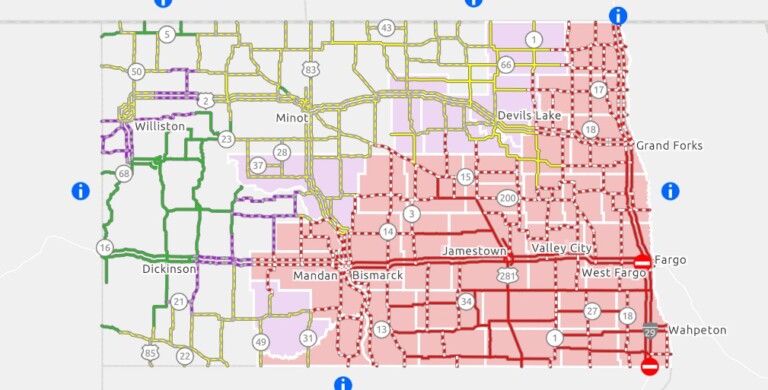 FARGO, N.D (KVRR) — (UPDATE 9:30PM TUESDAY) North Dakota Highway Patrol and North Dakota DOT have now closed Interstate 29 from Grand Forks to the South Dakota border.
The interstate is also closed in South Dakota from the border to Watertown.
They earlier closed a section of Interstate 94 from Fargo to Bismarck.
Highway 2 is closed from Grand Forks to Devils Lake.
The Cass County Sheriff's Office is urging drivers to stay off the rural roadways.
County roads are becoming impassable due to poor visibility and drifting accumulation on the roadways.
County Road 10, between Mapleton and West Fargo, will be closed at 6 p.m. this evening.
Due to reduced visibility from blowing snow, 19th Avenue North in Fargo is closed between 18th Street and Dakota Drive.
Traffic will be detoured to 12th Avenue North via Dakota Drive and 18th Street.
A blizzard warning remains in effect until Thursday morning at 7.
Both Moorhead and Fargo Public Works are stressing the importance of moving all vehicles off city streets during the storm until plowing has been completed.
Get the latest road reports by dialing 511 in North Dakota, South Dakota and Minnesota.