Attorney: State board aiming to destroy the reputation of Northland Vapor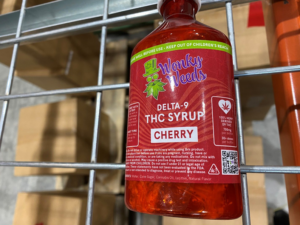 MOORHEAD, Minn. (KVRR) – An attorney for a Moorhead retailer that sells THC products is accusing the Minnesota Board of Pharmacy of trying to destroy the company's reputation.
Last week, the Board accused Northland Vapor of selling THC syrup contaminated with mold.
The Board said mold was found during a recent inspection related to an ongoing civil lawsuit against Northland Vapor and Wonky Confections, alleging they violated Minnesota's edible cannabinoid laws.
"Time and time again, the Board has exceeded its legal authority and gone out of its way to destroy the reputation of Northland Vapor," according to Northland Vapor attorney Tyler Leverington.
"The Board's hyper-aggressive approach toward small business owners is giving the State of Minnesota a black eye. We aren't sure why, but it seems they decided to make an example out of a small, family-owned business rather than pursue bad actors with more resources."
The Board of Pharmacy says mold spores are common, but some molds are dangerous because they cause allergic reactions, respiratory problems and make people sick.
"Six months ago, the Board placed certain products under embargo; now, they are shocked to find some products may have mold. This is no different than locking a grocery store for six months and pretending to be shocked when you open the doors and find moldy bread on the shelves," Leverington said.
"This is a non-story spun to make Northland Vapor look bad. The real question is: why is the State going so far out of its way to publicly smear the reputation of a small business? Is this what small business owners should expect if they do business in Minnesota?"