Victim identified, suspect arrested in connection with fatal shooting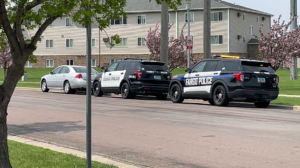 FARGO, N.D. (KVRR) – There has been an update on a devastating event that occurred earlier this week in South Fargo.
After a press conference, police confirmed the victim to be 16-year-old James Moore of West Fargo.
During the press conference FPD Chief Dave Zibolski spoke and he said "We're working with the states attorney's office in terms of charges and additional investigations. There are still other pieces that are active and ongoing relative to other folks who were there during this incident."
They also confirmed that they arrested 31-year-old Marcus Rexrode Wednesday night and he is being held at the Cass County Jail in connection with the boy's death.
He's being held on charges including murder, firearm possessed by felon and delivery of controlled substance.
"So, we just wanted to provide the brief information to the community that the person responsible for the shooting is in custody. The rest of the criminal justice process will take some time to come together and we're continuing to actively work and to complete all of the other investigative tasks." says Zibolski.
Earlier in the week we learned that The Fargo Police Dept. was called to the 4400 Block of 9th Ave. Circle S. after multiple gun shots were heard.
Soon after arriving they found the body of a 16-year-old boy with a gun next to him.
Fargo Police Department reported an altercation took place and those involved ran from the area.
"We're still looking for other people who were there so, no, is there a broad risk to the public? No. These individuals while they might not have had a deep relationship they did know each other." says Zibolski.
We found out at the press conference that there were multiple shots fired and there were two firearms recovered from the scene.
This is still an ongoing investigation, so it was hard for police to answer any further questions regarding the case.
Police are still looking for several people to interview who were there at the time of the shooting.
If you have any information on the incident, you are urged to call police.