Fargo Marathon Director Killed In Crash While Biking in Detroit Lakes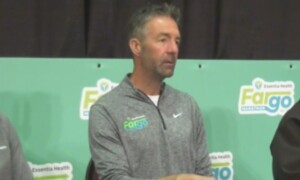 DETROIT LAKES, Minn. (KVRR) — A crash on South Shore Drive in Detroit Lakes has killed 53-year-old Mark Knutson.
Knutson was riding his bike just after 7 a.m. when he was hit by a pickup towing a boat.
Life saving measures were performed on Knutson at the scene.
He was flown by helicopter to Sanford Medical Center in Fargo where he was pronounced dead.
The driver of the pickup has been identified as 42-year-old Jacob Grabowski of Fargo.
No criminal charges have been filed as the investigation is ongoing.
Knutson was the longtime manager of Fargo Marathon and most recently took over as general manager at Detroit Mountain.