Fire Crews at Business Fire in Moorhead
Firefighters brought in additional hoses to help extinguish the fire.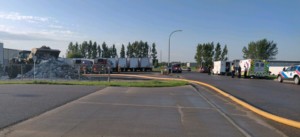 MOORHEAD, Minn. — Sprinklers help contain a fire at a Moorhead company that has a history with flames breaking out.
Crews responded to the Pactiv Corporation building along 42nd street south around seven this morning. The company manufactures and distributes food packaging.
Firefighters found smoke coming from the main part of the building and the loading bay.
Moorhead Fire Department crews say the blaze began in an area where cardboard products are collected.
There were three fires at the Pactiv plant in 2012 and one in 2016. One of which closed it down for a while.
"Several years ago we were here for about a 24 hour period for a larger fire that inflicted quite a bit of damage," Dep. Moorhead Fire Chief Jeff Wallin said.
Firefighters remained on scene to ventilate the building and remove burned materials.
Employees evacuated the building by the time firefighters arrived. No one was hurt.